About Brandace B. Duncanson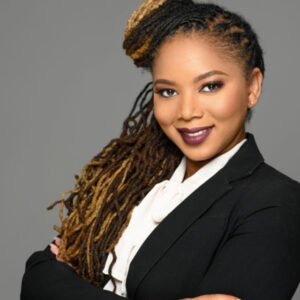 Brandace B. Duncanson recently joined the Ministry of Financial Services, Trade & Industry and Immigration as the Ministry's Deputy Director of Financial Services. Brandace has experience in a broad range of matters including sound knowledge of the practice, procedures and laws governing the financial and corporate structure in The Bahamas. Additionally, Brandace is a trained legislative draftsman and facilitated the preparation and drafting of a wide range of legislation on behalf of the Government of The Bahamas including, but not limited to, land reform and financial services. Brandace also served on the New Providence Road Improvement Committee where her duties included reviewing and advising on title to land. Additionally, when the suite of land reform legislation was introduced in 2011, Brandace was an integral member of the team that traveled throughout the length and breadth of The Bahamas educating Bahamians on the implications of the proposed legislation.

Brandace previously served as Senior Legal Counsel in the Ministry of Financial Services, where her duties and responsibilities included her involvement in various substantial matters on behalf of the Government of The Bahamas, notably, evaluating and making recommendations with respect to regional and global financial reporting initiatives such as the Organization for Economic Co-operation and Development (OECD) and the United States Foreign Account Tax Compliance Act (FATCA). Brandace also served as a representative for The Bahamas Government on the Global Forum's Automatic Exchange of Information Working Group and the OECD's Peer Review Group.

In 2012, Brandace was the youngest member appointed to The Bahamas' Constitutional Commission, whose responsibility was to conduct a comprehensive review of the Constitution of The Bahamas and recommend changes. Later, in 2014, Brandace was one of three (3) persons appointed to the Commission's Education Committee, tasked with conducting private and public educational forums, throughout The Bahamas, on the proposed Constitution Bills. In 2017, Brandace was appointed to the Road Traffic Authority Board where she serves as the Board's Deputy Chairperson.
Brandace began her tertiary education at Bethune-Cookman University where she obtained a Bachelor of Science Degree (Hons.), in Public Relations/Marketing. She also obtained her LL.B (Upper Second Class Hons.) from the University of the West Indies at Cave Hill, Barbados and obtained her Legal Education Certificate from the Eugene Dupuch Law School, Nassau, The Bahamas and is a member of The Bahamas Bar Association. Brandace has a diploma in Spanish (Excelente Hons.) from Alhambra Instituto Internacional, Malaga, Spain. She was awarded a diploma in Legislative Drafting from The International Legislative Drafting Institute, Tulane University Law School, New Orleans, Louisiana, USA. Brandace holds a Certificate of Training as an accredited Civil and Commercial Mediator from the London School of Mediation, and she is also a qualified Notary Public.

In her spare time, Brandace enjoys spending quality with her family, traveling and learning about different cultures and cuisines. She loves participating in community service initiatives, especially ones involving youth mentorship. Brandace is an avid reader of various genres and loves music and the outdoors. Her day to day life is guided by the mantra: "In life there are no punishments and no rewards, only the consequences of our actions."
---