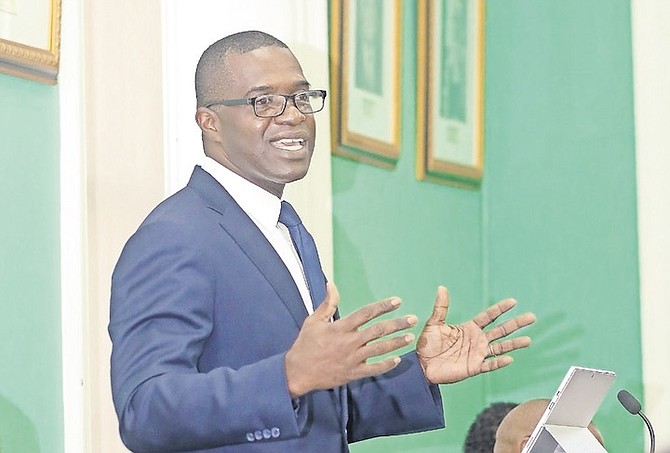 Minister ELSWORTH Johnson in Parliament (Minister of MOFSTII) Photo Credit: Tribune
The government is eyeing a $1m minimum for investors to qualify for economic permanent residency by making non-real estate investments in The Bahamas, a Cabinet minister revealed last night.
Elsworth Johnson, minister of financial services, trade and industry and immigration, told Tribune Business that the Immigration (Amendment) Bill 2021 that was tabled alongside the budget is designed to "improve The Bahamas' competitive edge" by expanding the routes through which high net worth individuals and their families can qualify for permanent residency.
Explaining that the reforms are designed to "unlock" the potential that economic permanent residency has for attracting wealthy investors and foreign exchange earnings to these shores, he added that such persons will have more options through which to qualify other than the present, narrow route of acquiring Bahamian real estate valued at $750,000 or more.
The Bill's reforms will permit investors to qualify via two other routes, one of which involves making investments "in The Bahamas of such a kind and of such an amount as may be so prescribed", while the other involves a mix of such investment and real estate purchases.
"We're looking at at least $1m," Mr Johnson told this newspaper, when asked what the minimum investment will be for persons to qualify for permanent residency without acquiring real estate. He previously said in his contribution to the 2021-2022 budget debate that such "investments" would be in endowment funds targeted at education, sports, the arts and culture, and social development projects.
The minister last night said the government has yet to determine whether investments in government securities, such as bonds, or the proposed National Infrastructure Fund and sovereign wealth fund, would enable investors to qualify for economic permanent residency.
The reforms, Mr Johnson explained, were being driven by feedback from the Bahamian financial services industry and its clients, who were arguing the case for a more flexible regime to qualify for economic permanent residency, as well as the results of a "benchmarking exercise" conducted against competitor international financial centres (IFCs).
This had revealed that other jurisdictions offered permanent residency products linked to non-real estate investments, and Mr Johnson acknowledged that investors were not always inclined to acquire Bahamian real estate worth more than $750,000 – especially as a small condominium could suffice for digital economy era post-COVID-19.
Article Credit: Tribune242