Denise Worrell is an entrepreneur who is as proud of her Bahamian heritage as she is patriotic. Her company, Naturally Bahamian (https://www.naturallybahamian.com), produces a wide range of natural products made from locally sourced ingredients. Her list of products includes juices, teas, syrups, jams, jellies, bath products, and many others that she makes from locally sourced ingredients.
"We are preserving heritage and culture and using natural resources to care for ourselves," says Denise. "We use the methods of our ancestors with a modern twist to better preserve and package food and body care items according to modern standards."
Denise describes in detail her method of taking cassavas grown in her farm and using them to make cassava flour that will then go into the cassava bread and bread pudding that she bakes while the cassava starch that she produces is used for ironing, making puddings, and thickening sauces.
Naturally Bahamian makes local teas, such as Back Bush Blend with five finger tea (for those who need a caffeine-free boost in the mornings) and Serene-tea, which uses natural relaxants like mint, spice, and fever grass. A fan favorite, Virili-tea, uses a proprietary blend of local herbs to spice things up in the bedroom for couples who need a little spark. Denise says that this particular tea is a favorite of international clients and tourists who vouch for its potency.
If cold beverages are more your speed, Naturally Bahamian offers a variety of crowd pleasers, such as Guavasia, iced teas, Island-Ade ( with flavors like Mayaguana Mango, Long Island Tamarind, Bimini Cherry, and Worrell Sorrel), and a variety of other beverages. Denise says these products are a testament to long held traditions within Bahamian society that she is happy to preserve and pass on to the next generation.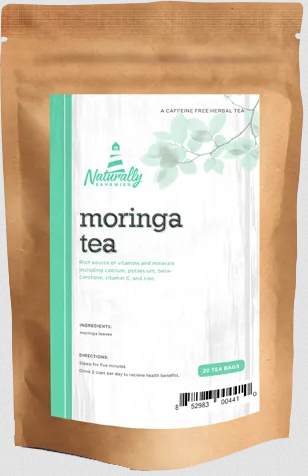 "An unfortunate side-effect of modernization is that Bahamians are slowly losing touch with natural living as everyone is becoming accustomed to overly processed foods. Many young people don't even know what our local fruits and plants taste like anymore. Naturally Bahamian's mission is to bring natural, healthy Bahamian living back to the forefront of our culture."
Naturally Bahamian is also finding new ways to use underutilized natural resources within The Bahamas. Their Sorrel products represent a new twist for an often misunderstood ingredient.
"Sorrel grows naturally in Eleuthera but for many years a lot of people avoided using it because it is red and looks like blood. We add ginger, cinnamon, and spice to pep it up and make it ours, transforming an ingredient that many were confused by, into a delicious syrup or beverage."
For those who are searching for natural skin care products, Naturally Bahamian also manufactures sea salt body scrubs in a variety of scents and flavors, as well as natural creams, lotions, deodorants, and an arm pit detoxification kit to rid armpits of discoloration and toxins that have accumulated over time from commercial deodorant use.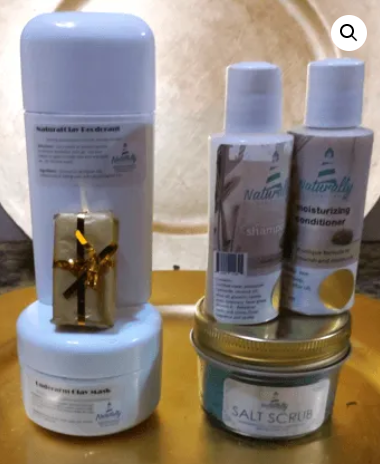 Although closed to the public during the COVID-19 pandemic, Naturally Bahamian also intends to eventually resume its Tea Talk and Tour in which guests are taken on a walk throughout the Coral Harbour-based property that houses the Naturally Bahamian garden and learn about the benefits of various locally grown plants before enjoying a traditional meal overlooking the sea, consuming the plants and animals grown in the garden and aquaponics units. Afterwards, guests are free to take a walk around the property and interact with the farm animals. Naturally Bahamian also caters to local tea parties with their unique blends and hosts health coaching sessions and talks – Denise is a certified health coach.
Sustainability is paramount for Denise. She says that all of her ingredients are harvested sustainably.
"Everything we grow ourselves is obviously done in the interest of sustaining our business, but even if we harvest in the wild, it is done sustainably. We have standards for our third-party suppliers and if we find out they are using unsustainable harvesting practices to provide us with raw ingredients, we will immediately cut ties. Unfortunately, we have had to do this before with a supplier. Sustainability is how we feed ourselves forever. I want these products to be around for my children and grandchildren."
While COVID-19 has impacted global transport and somewhat impeded Naturally Bahamian's ability to ship internationally, Denise says that she is doing her best to fulfill orders for her international clientele who cannot get enough of her products.
"What makes these products special is that they are uniquely Bahamian and can only be found here. I have had customers who have tried other brands or products made elsewhere and they always come back to me because there is no comparison to the authentic, natural, Bahamian-made product."
Naturally Bahamian products can be found in various stores, including Bluefield Farms, Fresh Market, Rosewood and Atlantis resorts, and the gift shops at several boutique hotels. International customers will also be getting a taste of Naturally Bahamian products at Expo 2020 Dubai (which was previously postponed due to COVID-19) where the Worrell Sorrell syrup and Guava tea will be featured from October 2021 to March 2022.
Denise is currently looking into trademarks and other ways that she can protect her intellectual property as she further develops her branding and packaging to be more competitive on the international market.
Launched in 2010, Naturally Bahamian is a family-owned venture that started off as a way to give authentic Bahamian gifts to friends and family and has now transformed into a full-fledged business that Denise hopes will be around for generations. She encourages aspiring entrepreneurs to keep their eyes open for opportunities that are literally growing all around us.
"We have an abundance of resources here in The Bahamas and we are also a very creative people. I often think, 'How can people not see these opportunities?' It is all about finding a product that is in-demand, finding ways to bring it to market, and being willing to work hard at launching and branding the product."
"With the internet and social media at our disposal, there are so many avenues to get your products out there. at minimal cost. You can do a whole lot more than you think. Do not allow fears, self-limiting beliefs, or doubts to prevent you from finding your passion and following your dreams."