Our conversation with Eugene "Geno D" Davis on being a Bahamian creative
"To be a success, you must have a love for what you do, pursue it with determination, and stay true to what makes you a Bahamian artist."
Those are the words of Bahamian music legend, Eugene Davis, better known by his stage name, "Geno D".
"We have proven through the years that Bahamians can compete on the global stage," says Eugene. "We don't lack creativity or appeal. We can achieve whatever we believe. That is my motto."
Very few Bahamians can claim to know as much about becoming a successful Bahamian musician as Eugene. His musical career includes hits like "Stagger Lee", "Gal If I Had You", "You Get Swing" and many other songs that are known and loved throughout The Bahamas.
He believes that one of the priorities of Bahamian artists should be to preserve Bahamian culture for future generations.
"We must preserve our heritage. As a young man, I was exposed to R&B and Reggae and while I initially admired and was influenced by those styles, I eventually came to the conclusion that the best thing for me to do was to be authentically Bahamian – not imitating someone else's culture. From that premise, I embarked on my career and it all worked out."
"When you visit Jamaica or Trinidad, you get what they have to offer. It is valuable, it is entertaining, it is beautiful, and you appreciate being given a view into their culture. It is important for us to produce the same kinds of cultural expressions not just for tourists but for ourselves as well. We must be proud of who we are and what we have to offer."
Eugene says that despite the documented tendency for local artists to mimic other cultures, the evolution of music has been more positive than negative from a quality perspective as technology has made the creation of high-quality music tracks more accessible by bringing the price down and making the creative process more efficient. He says that this evolution has come with the downside of an increased US influence on locally created music.
"This has made it challenging to appeal to young people and get them to see the value in preserving our own culture. US celebrities and musicians are everywhere flaunting their success and many young people want to emulate that not realizing that there are ways to preserve their own culture while pursuing success. It is an education challenge as much as it is a culture challenge."
He believes that the crux of this issue lies at the intersection of culture, music, tourism, and sustainable economic development and he dreams of a day when Bahamians can learn from the days of old when popular clubs were all over the island of New Providence, creating opportunities for performers beyond the confines of Bay Street.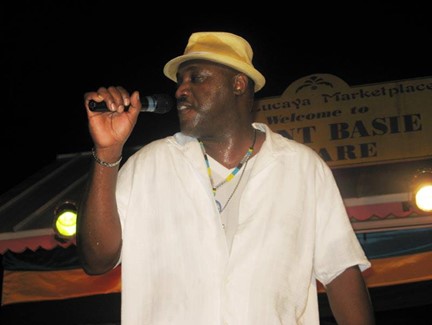 "While those days may be gone, I believe there was something to be said about the spread of tourism-based wealth throughout the island. It was more sustainable and diverse. Moving forward, we can definitely learn from that experience."
This is especially the case in the era of COVID-19, which Eugene says has adversely impacted him as one of the few Bahamians who are full time musicians. He describes COVID-19 as one of the "worst challenges" he has ever experienced, completely wiping out an annual calendar that was filled with gigs and causing a huge financial setback for him. He hopes that as the pandemic is brought under control, an increased focus will be placed on the creative economy.
He notes that many Bahamians seem skeptical of his claims that you can "make it" by being an authentic Bahamian musician but says that those who doubt it are looking at the situation from the wrong angle.
"People forget that when a tourist spends dollars in a local establishment or with a local musician that is a form of export bringing money into the local economy. We have an international audience that visits our country every year and loves the music that we make. Our product is worldwide. But we must learn about it, perfect it, love it, and believe in ourselves. When we demonstrate our pride at the highest levels, others will be drawn to it."
Eugene says that there are entrepreneurs in The Bahamas who "get it," noting that many business owners are making authentic arts and crafts, as well as consumables like Bahamian soaps, jams, and jellies. And most Bahamians seem to get the appeal when it comes to local dishes like conch salad and cracked conch.
"I want it all to be as Bahamian as possible. It is an experience. Even in Junkanoo, I am a proponent for the goat skin drums. There is an opportunity to manufacture Bahamian goat skin drums if we really embraced it. A part of the experience is playing on our goat skin drums instead of imported Yamaha drums that can be found anywhere. If we want to innovate, we can innovate within our culture. Look at Junkanoo where we have the 4 or 5 cowbells in one – that was a Bahamian idea."
Eugene advocates for introducing Bahamians to their culture early and often, lamenting the fact that many young DJs are very limited in their arsenal of Bahamian music because they are not familiar with it.
"With regional giants like Jamaica standing proud and even a cultural mecca like Cuba re-emerging, we must hold strong to our culture to create uniquely Bahamian experiences. There was a time when tourists came to listen to Blind Blake, George Symonette, Tony Mckay, and other greats. It was magical. They ate and drank local and really appreciated what we had to offer."
"These musicians were influential too. Too many of us don't know the story of the Androsian mason who wowed industry executives while playing his guitar on his lunch break. His name was Joseph Spence and his music is taught in colleges today as a major influence to many great guitar players around the world. There are many others just like him. We should be celebrating them and following in their footsteps. That is the only way to get the younger generation involved and believing that they can do it too. If Geno D isn't successful, the kids won't want to be like me. That success starts at home. We must support our own."
---