The Government's National Energy Policy (NEP) is on track to expand its solar energy capacity to 30% of total energy production by 2033. This goal is supported by the Inter-American Development Bank (IDB) and the Bahamas Development Bank (BDB).
Currently, solar power makes up less than 1% of all energy generated in The Bahamas. Oil is responsible for nearly all power generation with a 99% share of electricity production. This reliance on oil places The Bahamas well behind many countries globally and regionally when it comes to green energy and renewable power generation. Leading the region is Belize, which has only 3.59% of its power generation needs met by oil while 66.61% of its power comes from hydropower and 28.61% of its power is generated by other renewables.
The graph below shows a comparison of The Bahamas with Jamaica and Belize regarding a range of renewable and non-renewable power sources.
Figure 1: Bahamas, Belize and Jamaica, Share of Electricity Production, Year 2019 (data extracted from https://ourworldindata.org)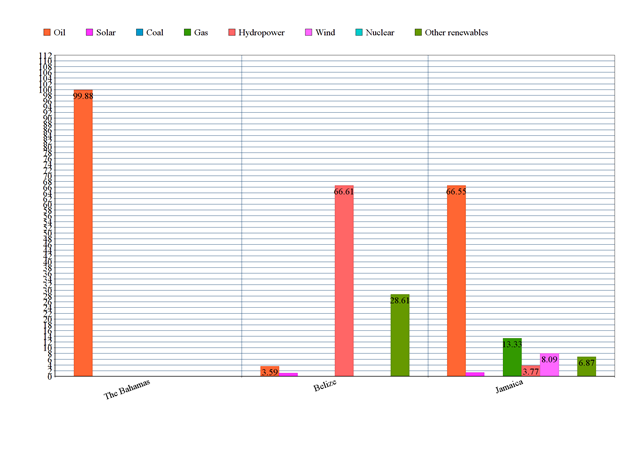 The Bahamas has a long way to go to catch up with countries like Belize; however, the 30% target represents an important step in the right direction as the government works towards minimizing the use of oil and other pollutants that are contributing to global warming and negatively impacting air quality.
The government has implemented various projects to expand the solar industry and is expected to continue its efforts to meet the NEP goals.
In 2019, the IDB approved financing of up to $170 million (USD) to The Bahamas towards solar energy projects (see: https://www.iadb.org/en/news/bahamas-promote-renewable-energy-idb-support). The BDB has continued discussions with the Energy Service Companies to further revise their solar programmes to increase access to solar financing on the local market. The hope is that these activities will help The Bahamas to meet its goal of a greener, more sustainable future.
You can find additional information regarding BDB's projects and initiatives under the Green Economy (and its other focused sectors) under the Sectoral Development section on their website at: https://bahamasdevelopmentbank.com/our-work/sectoral-development/.